Post by Brunettie on Dec 31, 2018 4:34:29 GMT
"Soldiers Without Borders"
Founder:
Big Boss; Ishmael (1972-2020)
Current Commander:
Big Boss; Ahab (2020-)
Executive Officer:
Kazuhira Miller (1984-)
Tactical Instructor:
Vacant
Notable Members:
Alicia "Whisper" Chambers (2023-), Jack "White Devil" Sears (2024-)
Former Members:
Adamska (1984-1995; 2020-2025); Amy Grace (2023-2025); Alice Abernathy (2020-2025)
Known Associates:
Jessica White
Known Assets:
Diamond Dogs (1984-1995; 2021-), Outer Heaven (1995-1999, 2023-), Desperado Enforcement LLC. (2024-)
Former Assets:
Militaires Sans Frontières (1972-1984)
Base of Operations:
Mother Base (1984-), Outer Haven (1995-), Grace Penthouse (2025-)
---
Uniform

The standard Diamond Dogs uniform consisted of:

Balaclava (note: only a few of the standard infantry wear this as part of the uniform)
SP Headgear - Balaclava with extra protection to prevent head injuries. Worn by Diamond Dogs members in the field
HP Headgear - Balaclava with integrated helmet for even better protection. Used either in the field or on FOB's with Level 5 Battle Dress or Sneaking Suits equipped.
Head set (note: only the standard infantry wear this as part of the uniform)
Utility SPIE (Special Patrol Insertion/Extraction) Harness
IIFS (Integrated Individual Fighting System) Tactical Load Bearing/Carrying Vest, also known as the LBV-88 or M-1988 LBV
US LC-2 Individual Equipment Belt w/ QR (Quick-Release) Buckle Hello
US M1956 Universal Ammo Pouch
US 1-Quart Plastic Canteen w/ LC-1 Canteen Cover
US M1967 Nylon Field Pack (Butt Pack)
Bianchi M12 Universal Holster w/ Drop Leg Extender
Jungle boots
Jungle fatigues (olive drab fatigues customized with knee braces on the right side and brassards with the Diamond Dogs insignia on them.)
---
Weaponry
Diamond Dogs utilized a wide variety of weaponry, including various technologies from the Western and Eastern Blocs.


Close-range weapons

Combat Knife
Handguns
AM D114 Pistol

Geist P3

Colt 1911

ShotgunsAssault rifles
AM MRS-4 Rilfe M3

G44 (G44K
, G44-9, G44MG)

Submachine guns
Macht 37
(Macht 37K, Macht 37L)

Sniper rifles
M2000 Sniper D

AM-MRS-73 Rifle

Grenade LauncherMissilesGadgetry and Support
Hand grenade

Flare grenade
Smoke grenade
Stun grenade
Sleep grenade
C4
Night vision goggles

Thermal goggles
Int-Scope

iDroid V7.32.2

Fulton Extraction Device

Vehicles and aircraft
Armored personnel carriers


STOUT IFV-SC

ZHUK BR-3

ZHUK RS-Z0

STOUT IFV-FS

Tanks


TT77 NOSOROG

M84A MAGLOADER

Military helicopters


HP-48 KROKODIL

UTH-66 Blackfoot

---
Uniform VariationsDiamond Dogs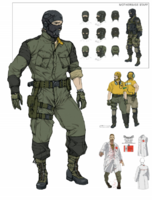 ---
Outer Heaven
---
Desperado Enforcement LLC.



Acquired Assets

Diamond Dogs



The Diamond Dogs was created as a result of the devastation of the Militaires Sans Frontières as well as the attack on the Old Mother Base. Diamond Dogs managed to situate themselves on an offshore plant modeled after their former base given to them by the government of the Seychelles after they halted an attempted coup by South African mercenaries. The name stemmed from the group's profession as "dogs of war," who were willing to carry out unsavory jobs for clients, while at the same time maintaining pride in their work.
The Diamond Dogs were shelved in 1995 with the creation of Outer Heaven. Upon Big Boss's awakening in 2020 after the death of George Sears, the Diamond Dogs were reformed in the first step to requiring lost assets over the last 30+ years. Since then the Diamond Dogs are the main military force of Outer Haven.
---
Outer Heaven
Outer Heaven was created in 1995 as a Coup to take over the Western World. Its actions were stopped by one lone soldier. Later in 1999 another incident happened with Outer Heaven and Big Boss was defeated and thought killed by one man. The group then dissolved many of its members working for rival PMC factions, security forces, and many of them meeting their end in the Outbreak.
Outer Heaven was revived in 2023 as a special forces unit with the aid of Amy Grace and Alicia Chambers. It remains a special forces unit ever since.
---
Desperado Enforcement LLC.
An American PMC composed of cyborg soldiers, it was involved in an incident in 2018 which lead to its near dissolving at the hands of the World Marshall company but was then acquired by Jack Sears. Desperado soldiers have cybernetic enhancements including actuator suits which increase their abilities and Face Shields to protect their faces from gunfire. All Desperado personnel carry HF Blades and use standard Outer Heaven armaments for ranged combat.