Adam
Oct 19, 2020 4:47:50 GMT
Post by Frosty on Oct 19, 2020 4:47:50 GMT




Name: Adam

Full Name: [Redacted]

Aliases: Wraith (White Rabbit Code name)

Nicknames: None

Age: 18

Organization: White Rabbit

Status/Rank: Freelance


[Physical Description]
Height: 6 ft
Weight: 175 lbs
Body Build: lean yet muscular build
Race: Altered
Skin: White
Gender: Male
Nationality: Unknown
Ethnicity: Unknown
Hair: Black
Eye: Blue
Tattoos/Scars: Adam has two tattoos with blend into one another;
The first one is a full sleeve starting from his shoulder all the way down to his wrist with the iconography of a serpent dragon wrapping around his arm and through a skull on his forearm. At the top of his shoulder is a heavily detailed flower tattoo used to cover up marking he's had since he was young.
The second tattoo starts at around his left pectoral and stretches down past his floating rib, it much more norse celtic in design depicting more of a shield with celtic knot work. It also serves the purpose of covering up identification markings he's had since his childhood.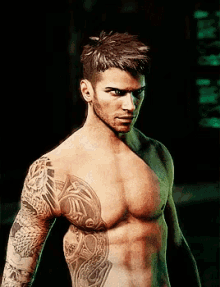 Left/Right handed: Ambidextrous
[Personality]




General attitude: Despite there being a full on zombie apocalypse and turf war tearing the city apart Adam generally carries himself with a very chill attitude, his nonchalant demeanor often rubs people the wrong way, often considered just an asshole. He's very much a thrill seeker and isn't one to pass up things that would give him a good time. Though this is the side of Adam he let's people see. Very few actually know who Adam really is except for maybe Alice, while not exactly compassionate he does care about people close to him. He's also got quite a temper on him but you've really got to catch him on a bad day or be on his shit list to really bring it out.


[Fashion]




How does s/he dress:

Adam has a very generic sense of apocalyptic fashion, he wears loose blue jeans often with holes and cuts in them with an assortment of black and gray tank tops, along with boots and fingerless gloves. It's very rare you'll actually find him in an actual T-shirt despite owning several. He also wears a hooded long coat with a union jack patch on one of the sleeves. It's one of his favorite articles of clothing.

Hairstyle: His hair is always cut in a faded undercut though the top is usually always messy and styled forwards.


[Views/Opinions]




Biggest accomplishment: Consistently beating Rain and Kaplan at poker

Past failures: Losing his best friend

Leader or follower: Depends on the situation but mostly loner

Biggest role model and why: Alice; tough when situations call for it but still kind of caring and a total badass for a normie.


[Social Life]




Patience level: Adam has a pretty solid patience level when it comes to most things, or at least he can pretend really well. However if you catch him on a bad day or you're the wrong person, then he really doesn't have any.

How is s/he perceived by:

->Strangers: Asshole, could easily become a gang leader or warlord of a territory if he actually wanted to.

->Friends: Asshole with a good heart; just don't get him angry.




[Spiritual Characteristics]




Religion: Atheist

Deities: None

Importance of religion and roles: None


[Combat]
Affiliations:
-> Past: Umbrella Creation
-> Current: Freelance White Rabbit
Member
Peaceful or violent: Depends
Weapons (if applicable): Two pistols one is a
.45
, the other is a
9mm
. The .45 holds 12 rounds of .45 ACP in the mags with one in the Chamber. While the 9mm holds 18 rounds of 9x19 parabellum in the mags with one in the chamber. The two guns are used for different reasons. The .45's overall stopping power is perfect for precise heavy shots against zombies and monsters while the 9mm allows for faster, more accurate rounds to put down field against living breathing, non-monster targets. Both guns have been modified in the grips to allow for better control of the gun as well as flared mag wells for faster and easier reloading.
On missions he carries a heavily modified
ar-15 rifle
with a 30 round mag. The gun is modified to fire burst and full auto, it has a long range scope and cantered reflex sights. The
barrel
is interchangeable for either long range encounters or cqb missions.
It also has a bayonet attachment point made to fit his knife into it.
Adam also has a large tanto style combat knife -with a blade length of ten inches and an overall length of 15 inches- which he carries with him at all times in case he quickly needs to kill something or intimidate someone. The location of said knife on his body changes often and frequently but is always easily accessible to him.
-> Favored: Pistols
-> Proficient: knife
Style of fighting: CQB, CQC, Brazilian Jujitsu, and Kali knife fighting, as well as Parkour and urban and rural styles of free running.
[History]



Data Entry://

Subject: Adam



Log entry by: OV

July 20, 1998



It would seem our colleagues at <REDACTED> aren't having as easy a time as we thought they would. Seems they're running into the same problems we were despite these two being specifically picked and primed for this cause. Despite the set backs though we're making head way, nearing completion of phase one has been daunting but once the asset at <REDACTED> has been relocated to this facility we'll be able to move on to phase to with the pair of them.


---


December 3, 2000

Phase two seemed to go over much smoother than we had originally anticipated. It's a good thing K.S. suggested we rewrite and repair the damaged done to the genome in phase one otherwise we might have had a mess on our hands. We're ahead of schedule with our subject so we've begun programing the subject. Hopefully we'll be able to catch up with the second subject which was transferred from <REDACTED>. Still no idea why we're preforming this complicated experiment in eugenics.


---
---


"We've gotta go after them! They took her!" A young kids with really shaggy black hair argued and fought kicking and screaming as he was being pulled away from a battle field. His friend had just been taken by a group of city raiders. "Adam, enough! She's gone!" The British accident of the thick toned black man decked out in tactical gear yelled over the boys screams. "We need to regroup before they come back!" Despite his fighting against the man pulling him back keeping them in a stale mate a sudden pain in the back of his head caused everything to black out.

3 years later

"Wraith... Wraith. God damnit, Wraith get your head in the game!" A young man was sitting in a folding lawn chair on top of a nearby roof when the scolding of One over the coms woke him up. "Yeah yeah I'm on it, you're clear..." He was peering down the scope of his rifle looking over the area, there was a gang which was invading into this territory for several months and they'd been hired to take care of them. He didn't particularly care about this gang if he was being honest but it did help that they were one of the few who controlled a large chunk of this city and let the group stay in the area while they worked. "Wait I got something... car fast approaching from the west. Looks like the KING group." KING which was the invading gang had had a rivalry with Awat for as long as the territories and gangs had really become a thing.

"Wait for the signal to engage." A hispanic female spoke over the line, as Adam was peering down his scope getting ready something in the back of his mind distracted him. The bright neon and spot lights of slum row along with the smell of iron and the loud sounds of cheering and hooting. "Take the shot Wraith!" One yelled over the comms and snapped Adam's attention back on mission apparently they had been trying to get his attention but someone else from their group took the shot which took out the leader. He was heavily distracted but now he wasn't considering the skirmish happening on street level. "Everyone engage!" the call was made and Adam clipped the rappel line to his belt and leapt off the building joining the skirmish.

The whole firefight took less than thirty minutes. KING by comparison of Awat and White Rabbit were nothing more than a civilian level street gang that were getting a bit too big for their own good. Tonight signed their fate and got Awat more land in the city.


---


Back at the hideout.

"What the hell was that Adam?" One, aka James Spade was livid as they all piled into the small warehouse that they had converted into a safe house for them. "You've been spending too much time in that sesspool and it's impacting your mission performance." Adam rolled his eyes as he unloaded his rifle and racked it up in his locker. "You shouldn't even be going there, what if Umbrella gets word of you there while you're piss faced and distracted with that slut?" Adam slammed his locker closed, "Oh fuck you Spade! You know damn well that's not the only fucking reason I go there." The two threw words back and fourth before finally Spade cut Adam off, "She's dead, you need to learn to accept that!"

Adam tore past the table and was about to blast Spade in the face before Alice jumped in the way and stopped him, "Okay enough, you two need to breath. Adam outside now." Adam looked down at her being slightly taller than her now, "I'm not the one who fuckin' started it!" Alice had a very stern look, the closest thing he got to a 'mom' look, which made sense considering she had pretty much adopted him. "What the hell ever." He said throwing off his tact vest and throwing on his coat and going outside.


---


That argument was the final breaking point between Adam and James. It took a lot of convincing by Alice to keep Adam from leaving the group and for James to try and stop him. Instead however a deal was struck for Adam to freelance for the group in exchange he wasn't allowed to draw attention to himself or give away their group or that he was a part of it and he agreed allowing him the free time to fully devote to look for his long lost friend.